What a week this has been! It is Spring Break for my kids. My youngest has been spending the week away staying with our cousins. I've helped my oldest get his driver's permit, visit his selected college campus and spend some time visiting the city where it is located.
I've also been working with a new release kit from WM Squared Designs called
My History
. I did a page that shows the lineage of my family from my great grandfather who traveled to America alone at the age of 17 years, through to me. I included the passenger list from the ship he traveled on, an old photograph of my grandparents with my father as a child. And then finally one of my favorite photos of me with my "Pop-pop".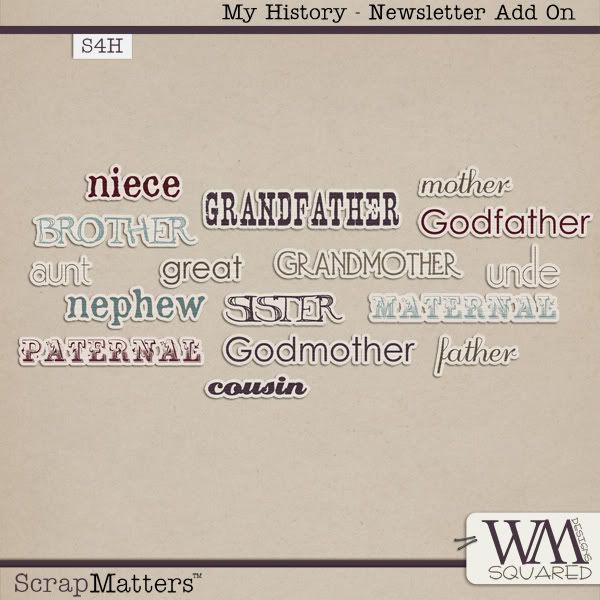 Wendy has some awesome additional word art available to her newsletter subscribers! Make sure you visit her
blog
and sign up!
As a mom to kids with autism, I find a really special use for this kit. Beyond making beautiful scrapbook pages and craft projects, I can see the kit and accompanying word art being used to create pages to help those with autism to recognize family. Imagine making a mini album with all the family, grandparents, cousins, siblings..... that can be reviewed before a large family gathering to help your loved one with facial recognition, or to refresh their memory of people's names. Or even to help explain the relationship of each family member. The designer, Wendy, has more to add to this kit over the next week. Keep tuned to her
blog
for add-ons!
OK - so that explains the Autism and Heritage in my title. Now what about the soot? Well...... we had a problem with the oil burner at our house this week. Seems it needed some cleaning out. And then something went wrong while it was getting cleaned out. Soot was blown all throughout the basement. Guess where my crafting area is? Yep. The basement. Right outside the door to the utility area where the oil burner is located.
There is a thin film of oily soot all over everything! Not just the table and floor, but my fabrics, fibers, ribbons, tools, papers, inks, paints, flowers, lights, boxes...... you name it! I'm so thankful that I had a good bit of my stash stored INSIDE drawers or containers. I'll be able to clean up the containers and salvage the items inside. However, I really like to have things out where I can see them, so I remember that I have them and am more likely to use them. So a lot of my stuff is out in the open. All of those items are bathed in soot!
As I've started to clean things, I keep getting all sooty and feel as though I am re-sooting (is that a word?) things. Like it's multiplying and spreading! Ack!!!!
Somethings will not be able to be cleaned and I'll just have to dispose of them. I'm trying not to think about that. I'm trying to remain positive. I know it will take me weeks to get it all cleaned up. BUT..... at the end of all of this, I will have a cleaned, purged crafting area. Perhaps I will also have a better storage system that can handle it when the
soot hits the fan!
LOL
Off to do some more cleaning. Hope to have more to share soon!